Street artists hit the gallery in this rakish, gritty group show put on by OverKill Studio. The highlight: a giant black-and-white mural by all the artists, bubbling with pop characters such as Alfred E. Neuman and roiling with dark undertones. Mon-Sat 9 a.m.-5 p.m. Free. The Distillery Gallery, 516 E. 2nd St., South Boston. 978-270-1904. www.distilleryboston.com
It's printed across your hoodie, stenciled on your Dumpster and plastered on your blog banner. Urban style is the new aesthetic of contemporary art in this decade, and it's hard to avoid: Spray paint, pop art, stencils, consumer culture and graffiti have come to define this latest trend. From São Paulo to Seoul, urban artists, those oft-unsung heroes of the art world, might be more comfortable mixing wheat paste than schmoozing with gallery owners. Tapping the internet's advantage of instant contact, this work is shared and documented quickly, jumping from sketchy nightclub bathrooms into the blogosphere and right onto your iPhone.
Graff work et al may shine in the urban environment, but is it fine art? Overkill Studio thinks so, and they're placing their bet. "We are not trying to look at it as the aesthetic of illegal art, but the end result of too much TV ... the overkill of media influence," says artist Buildmore, a self-professed "medicine man," searching for values other than money to motivate. "People think it's junk because it's on the street."
Buildmore, along with Kenji Nakayama, Evoker and Morgan Thomas, make up the core group of Overkill Studio's artists in South Boston's Distillery building. He leads me through an unassuming door marked "restroom" and upstairs into the studio itself. Founded to give painters a forum to work, critique and share secrets, they are taking full advantage of the space. Thomas' paint-covered hands gesture across the latest results—a wall she has infused with the Hindu and miniature painting influences she picked up while living in India.
Adding more international flair to this group is Japanese-born artist Nakayama. "I was no one, but people kept asking me about my work," he says, looking up from cutting stencils. "Buildmore and Darkcloud were the first to catch me." Nakayama's paintings have an epic sense of photo-realism that lead people to ask if they are photoshopped. "Being a sign painter and engineer taught me to appreciate the craft and focus on that," Nakayama says. Working by hand for months on a piece, avoiding laser cuts and other shortcuts, he was recently rewarded with solo shows in Melbourne, Australia, LA and beyond.
These artists have also left their mark on Boston, with Nakayama's inviting entryway to 179 Mass. Ave., and Evoker's playful "Hug Life" window piece at LAB. The first big group project followed—the alley outside Central Kitchen in Cambridge. This ever-changing, open-invite space has seen artists from around the world dropping by to add and take away. By all accounts, it is an ever-evolving destination in the world of urban artists.
Staying focused on expanding their realm, Overkill now approaches their first group exhibition. Individual works from affiliated artists hang alongside two group walls painted in black and white, a visual communication between friends, blending styles into a large-scale "diagram." Complementing the locals is a slew of painters from New York, including former Bostonian Darkcloud alongside fresh talents like Celso, Deeker and the ELC Crew. The show also finds time to address one of the other more striking trends in modern art today: free pizza and beer.
PAINT IT NOW
PRESENTED BY OVERKILL STUDIO
THURSDAY 8.21.08-THURSDAY 10.2.08
THE DISTILLERY GALLERY
516 EAST SECOND ST.,
SOUTH BOSTON
978.270.1904
OPENING RECEPTION THURSDAY 8.21.08
7PM-11PM/FREE
DISTILLERYBOSTON.COM
OVERKILLSTUDIO.COM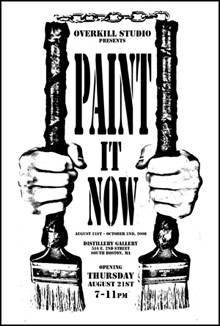 Not long after walking into the Distillery Gallery on a Monday evening, Thomas Buildmore removes two painted-over NO PARKING signs that had been screwed into the wall. "This show isn't about street art," he says.
If it were, "we'd have some cliché conversation about street art versus fine art." Moments prior, I'd had that cliché conversation, with Cantabridgian artist Morgan Thomas. We agreed that "Paint It Now" — the show that opens tonight at the first-floor alt-gallery in the Distillery, South Boston's living space-cum-artistic haven — is street art moved into the fine-art world. It's just a change of location, with the added luxury of time, which most street artists — who are constantly looking over their shoulders — lack.
Buildmore's sentiment is a surprising one, given that the show features a dozen or so artists, many of whom use city walls as their canvases. He and Thomas, who are part of a collective called Overkill Studio that's based in the same building, organized the show with Scott Chase, the director of the Distillery Gallery.
The idea behind "Paint It Now" is simple: give two white walls and an unending supply of black paint to several of Boston and New York's young artistic talents, and see what happens. In addition to Buildmore, Thomas, and Chase, those chosen talented contributors will include Kenji Nakayama, Dark Clouds, Noir Boston, Hargo, and Alphabet Soup — whose work, if not names, anyone who walks around Boston enough should recognize.
Artists will gradually add paint to the walls until October 2, when the show closes. The idea for the walls to be entirely black and white, says Thomas, is a limiting factor meant to both unite and challenge the artists.
As for Buildmore, he's not disparaging street art with his entry-way comment. In fact, when the kind folks at Central Kitchen in Cambridge decided to make their alleyway wall a street-art free-for-all this past fall, they asked him to help recruit talent. But Buildmore doesn't want the contributing group to be defined by one type of media they use.
"What we're trying to show is a juxtaposition of styles of painting," he says. "It's a collision of all of the different influences we draw from. It's like bringing all of art history right to the surface."
All debates aside, says Buildmore, there's an air of levity to the exhibit, whose opening will eschew wine for Pabst Blue Ribbon. On one wall, a large octopus ensnares a pixie-like dark-haired beauty. Nearby, her twin climbs the ear of a large Alfred E. Neuman–like head. Over a doorway, manic gold-and-black stenciling on a piece of wood reads HALLELUJAH! One of Nakayama's large, meticulously stenciled paintings hangs in a smaller room; in another, a cutout wood graffiti tag, hiding in the upper corner of the ceiling, reads GROAN.
"We just wanted to paint the walls," says Thomas. "And Scott said it was okay, as long as we don't paint the drain pipes."
"Paint It Now" is at the Distillery Gallery, 516 E. 2nd Street, South Boston, 617.269.8430, from August 21 through October 2. Opening reception is August 21, at 7